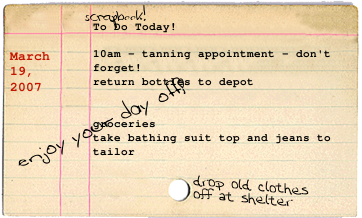 ... and i have the day off!
i can't quite believe its been more than a month since i've last blogged. busy, i suppose!
just finished up with working the sales route i was covering last thursday, it was 7-ish weeks that i covered for the new gal. worked with her tues, wed, and thurs. i really like her, and glad to have met her. from the sounds of things i may be covering her route again for 6 weeks starting the end of april as she will be going in for surgery.
and the countdown is on for holidays! we're leaving in 12 days for puerto vallarta with my entire family! eleven of us - should be good times! with the preparation comes a flurry of shopping. i'm so glad that stores do have things like shorts and bathing suits out, even though the weather is not exactly spring-like. dh and i purchased new suitcases on the weekend. we have some, but not enough for all 4 of us. totally loving mine - it looks like this:
yes, its pink. what can i say? totally fell in love with it when i saw it. and it was on sale for $80. dh got a grey and orange one. the thing i was most surprised about is that it has a 15 year warranty! crazy.
well, if i'm going to make my 10am appointment i better get a move on. shower and all that! hope you're having a great monday!